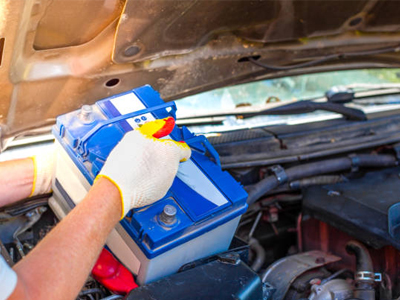 A car battery is one of the most overlooked components of a vehicle. Only a very few people pay attention to it and follow the recommended maintenance schedule. Without a properly-functioning battery, you can't head to any place. It is essential for starting your engine and powering all of the electrical components in your vehicle. Though the life span of your car battery depends merely on the vehicle's condition, most vehicles need a new battery every four years on average. Here are a few warning signs that indicate that your battery's life has come to an end and it's time to head to a car mechanic for car battery replacement.
Slow Starting Engine:
When the components inside your battery wear out, it takes longer time for the engine to turn over. A slow starting engine is the prominent warning sign of a dying battery.
Electrical Issues:
If the battery starts to lose its charge, it will have a tough time to power all of the electronics such as lights, radio and dashboard computer in your vehicle. Plugging more things such as phone charger into your vehicle will make the battery die faster.
Strange Smell:
Damages to the battery or an internal shortage produce strange smell. This could be due to a leaking battery. If you notice odd smell while opening the hood, take your vehicle to the mechanic for an inspection and replace the battery if necessary
Old Battery:
As already mentioned, the car batteries may last for 3 to 5 years in ideal condition. When driven in winter conditions, the lifespan of the battery may be slightly shorter. To be on the side of caution, get your battery tested regularly and replace if it gets too old.
Check Engine Light Is On:
If you experience the above listed problems with your vehicle and your check engine light comes on in the mean time, it means that your battery is running out of power. Quickly head to a mechanic to check its capacity and get it replaced if it has lost all its efficiency.
Wondering who can help you with car battery replacement in Melton? Zira Auto Care could be your life saver. We will check your car battery and inform you the right time to have it replaced. To book your service, you can call us on 03 9743 3005.
September 14, 2021
Categories: